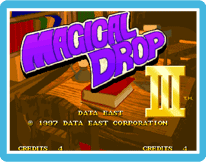 Long, long ago, inside a magical forest was an old library, inside which sat a book titled "MAGICAL DROP". Inside these pages was a paradise called "Magical Land", where fairies of all colors lived.
In Magical Land, every year a Magical Drop Tournament is held, where the winner is presented with a "MAGICAL DROP" which has the mysterious power to make one's dreams come true! So it's no wonder so many contestants gather for the tournament.
Like every year, "tournament season" has once again arrived. Who will take home the coveted "MAGICAL DROP" this year? It's a mystery you'll have to play to find out!